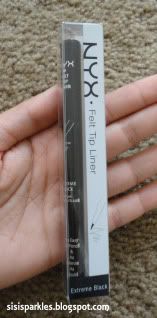 What is it?
"Felt tip pen eye liner releases the perfect amount of color for precise and dramatic lining. The long-lasting and smudge-proof liner holds up to its name. "The One Day Tattoo" Won't smear. Waterproof." -
NYX website
Retail price:
$8
My Thoughts:
The packaging is clear and easy to read. This is the first time I've ever tried a liquid eyeliner, and I would say that it is very newbie friendly. It feels like I am taking a marker and lining my eyes with it. The tip is so pointy that it makes it easy to do thin lines, or create a thicker line. It doesn't feel like a brush, but more like a marker. I purchased the "Extreme black" color, and it really is. It glides on very smoothly; I like to make short strokes when I am applying it. It's very pigmented, long lasting, and will not smudge or smear throughout the day. At the end of the day, it looked the same way as it did when I applied it. Overall, I think this is a steal!
Would I recommend it?
Yes, to both newbie and expert liquid eyeliner users :]